Rocket Poker:

Plan agile projects online with our free-to-use Scrum Poker tool

You probably know the term Scrum Poker or Planning Poker. At its core, this is a technique or method for the playful estimation of work units during Backlog Refinement. The goal is to be able to estimate how much time will be needed for a project or a multitude of tasks. This estimation can of course be done with the help of a classic card game. Rocket Poker is your free-to-use tool to easily and playfully estimate your efforts online. Start right away! It's best to play a round of Rocket Poker before you start planning your sprint. This way, all efforts can be estimated, leading to a smooth sprint planning.

A game of Rocket Poker gives you three core insights: 1. A (relative) estimate 2. Improved technical knowledge transfer 3. Early feedback on feasibility and implementation options Rocket Poker helps you factor out natural group dynamics in the planning process so that everyone can have their say, not just the dominant participants. It also helps to account for unknowns - especially when working in cross-functional teams.
That's why Rocket Poker is
your alternative

to other Scrum Poker Tools

In order to understand why Rocket Poker is the perfect Scrum Poker tool, it makes sense to briefly tell the story of how it came about: within the Accso team, agile IT projects are part of everyday work. No wonder we use Scrum Poker in our day-to-day operations. However, no suitable products met our requirements. So, it was not suprising that our team took this problem into their own hands and developed "Rocket Poker" as a community project. Since we are probably not the only ones with this problem, we decided to offer our tool to everyone who would like to use it.

What makes Rocket Poker so special? And how does it differ from other Scrum Poker tools? Rocket Poker... ... is, and remains, free of charge. ... works without registration. So you can start right away! ... comes with a clean and appealing design. ... is intuitive to use. ... is something you can try out right here!
Effort estimation in
5 easy steps

, thanks to Rocket Poker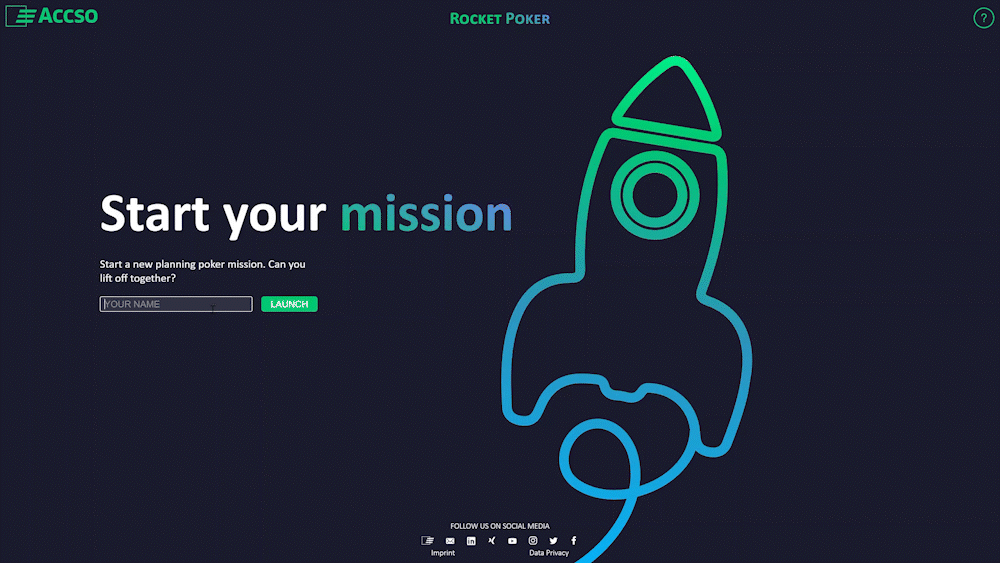 1. Open a new scrum poker table by entering your name in the field on this page. You don't have to sign up or input your email address.
2. Invite all team members to the estimation session via the individual Rocket Poker link.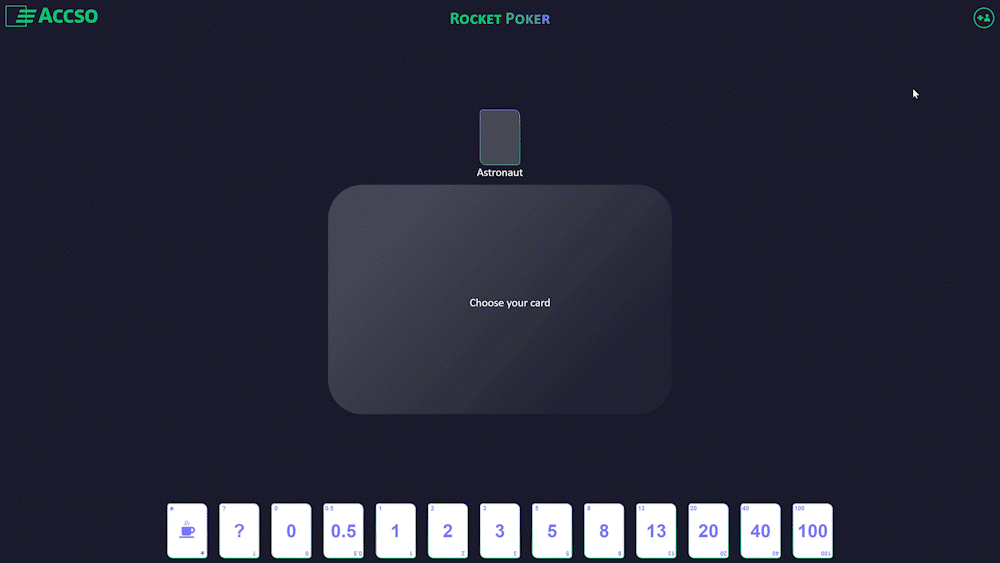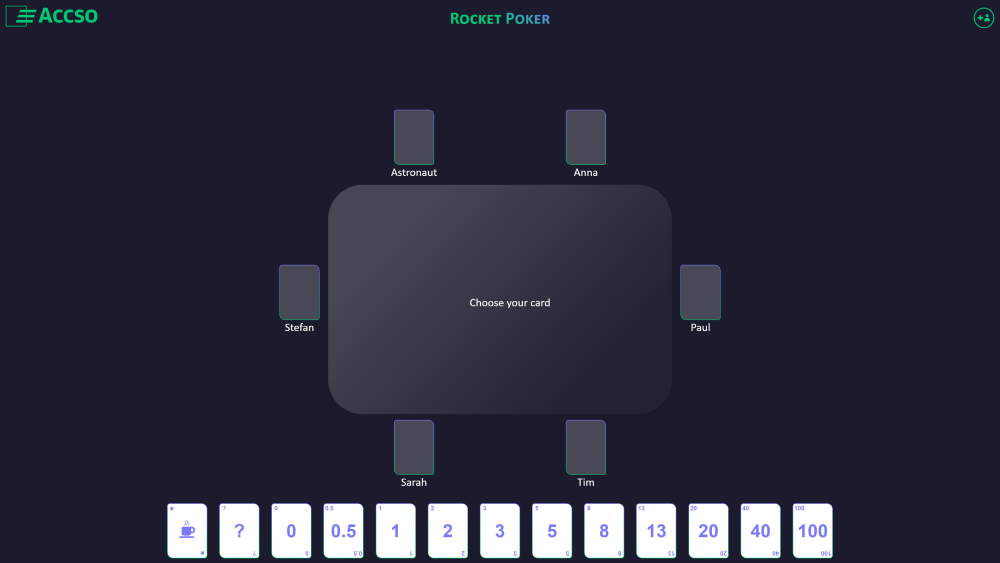 3. Once all participants are in the round, the product owner briefly presents the story and the team has the opportunity to ask questions.
4. The session owner reveals all the cards. The results can be considered final, if the estimates match.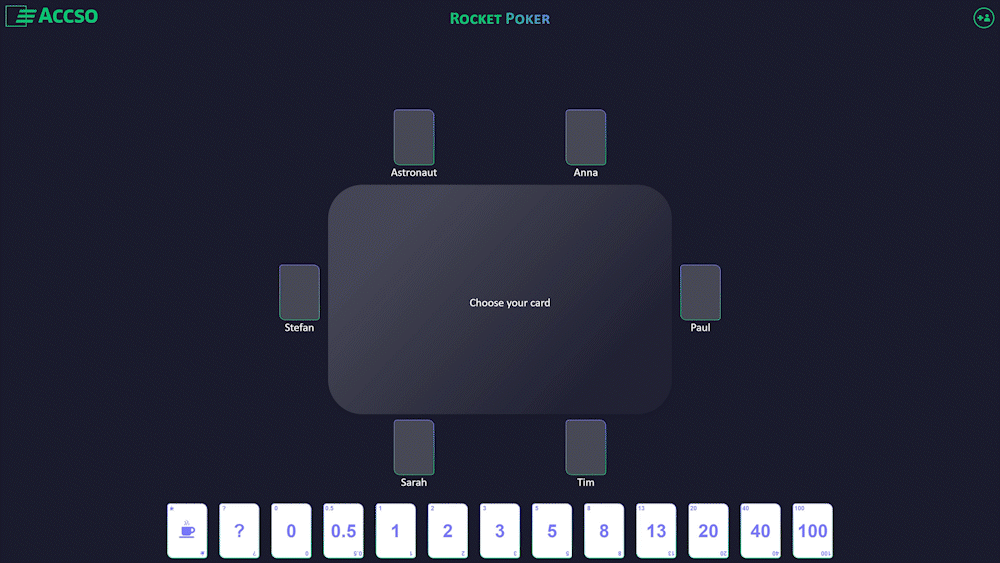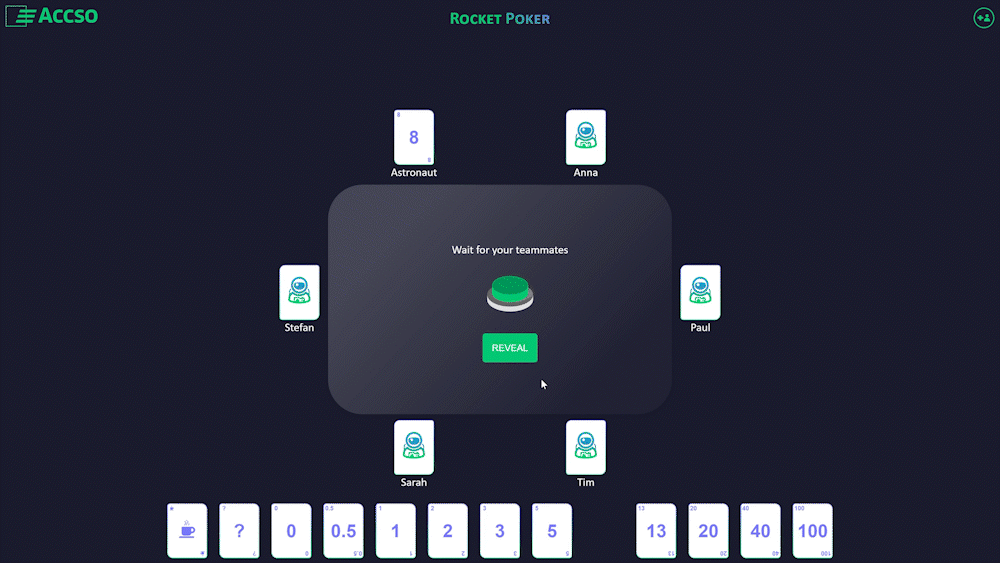 5. If this is not the case, the team discusses the outliers and re-estimates. After a maximum of three rounds of estimation, the highest estimated value applies if no agreement has been reached.
Sharing your
challenge with